Bimini MUSEUM
History of Bimini – Volume I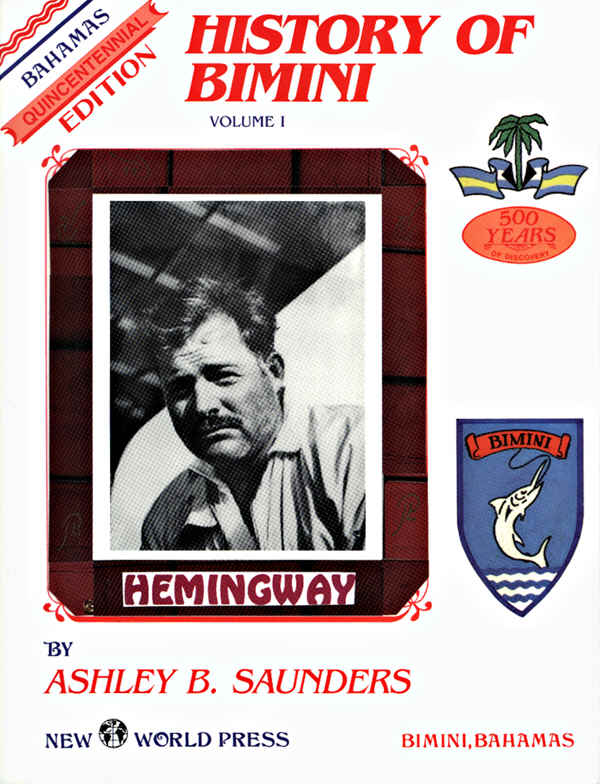 Written by an outstanding authority and profusely illustrated, this is a comprehensive study of the people of the Biminis, westernmost group of islands in the Bahamas. This volume vividly captures the complexities and attainment of this unique culture of the Bahamas.
The Biminis' seclusion and proximity to the United States mainland and the Gulf Stream, island legend and history point to a great deal of wheeling-and-dealing and dangerous activity along its shores and on nearby cays, at the tip of the 40-mile Bimini island chain.
The author first describes the land, the people and the pre-history of the area, and then considers each aspect of the history: the Lost City of Atlantis, Lucayan Indians, Explorers, Ponce de Leon and the Fountain of Youth, slave traders, pirates, ship wreckers, gun runners, cotton traders, spongers, rum runners, drug and alien smugglers, adventurers and big game fishermen, and such notable characters as writer Ernest Hemingway, philanthropist Mike Lerner and exiled Harlem congressman Adam Clayton, Powell, Jr.
About the author:
Ashley B. Saunders was born on the island of Bimini, Bahamas. He is President of the Bimini Historical Society and Vice President of the Bimini Museum. Mr. Saunders attended the University of Wisconsin at Madison on a Bahamas Government scholarship, where he graduated with a Bachelor of Arts degree. He also did post-graduate work at Harvard University in Cambridge, Massachusetts. Mr. Saunders has authored two books on the history of Bimini and several books on island poetry. Some of his poetry appears in Bahamian Anthology, a text used at the College of the Bahamas and at the secondary school level. Mr. Saunders also holds diplomas in Tourism Education from the Organization of American States (OAS) and the Caribbean Tourism Organization (CTO). Mr. Saunders is presently a teacher at the Bimini All-Age School.
Mr. Saunders, an internationally recognized author, was the winner of the prestigious 2000 Cacique Award in the author category.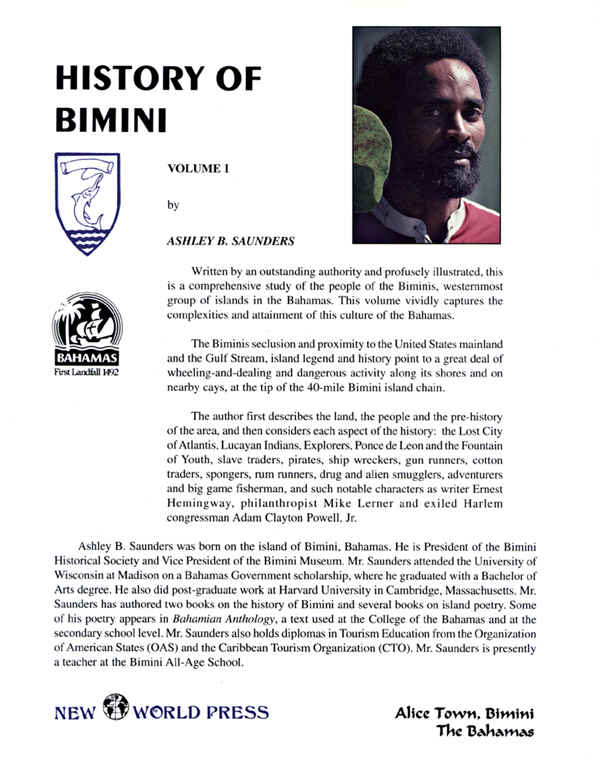 Copies of History of Bimini – Volume I are available at a cost of $20.00 each + $5.00 shipping and handling for a total of $25.00.

To order, please send your request and remittance to:

New World Press
Post Office Box 652
Bimini, The Bahamas
Telephone: 242/347-3201
Fax: 242/347-3544
Please be sure to include your complete mailing address as well as a telephone number or e-mail address in case there are questions regarding your order. Thank you.